"Masks aren't about public health but social control. Image of Biden in black mask endorses culture of silence, slavery, and social death."
Als trainer leer ik mensen dat het essentieel is om op zichzelf te vertrouwen.  Jezelf te kennen en te managen, zeker in tijden van verandering en stress. Dit zeg ik niet zo maar, er is veel onderzoek gedaan naar gezondheid, werking van het immuunsysteem, maar ook hoe het geluksgevoel wordt beïnvloed.  We staan nu eenmaal in direct contact met de omgeving, wat emotioneel en psychologisch veilig kan zijn of juist niet. In dit laatste geval wordt het stresssysteem aangezet om te overleven. Een korte opsomming van hoe de omgeving invloed heeft op het functioneren van de mens. En omgeving is zowel de externe omgeving als onze eigen interne denkgeest.
We hebben een primaire behoefte om gezien te worden, gehoord te worden, lief te hebben, bemind te worden, kortom om 'erbij te horen'.  Mensen die zich eenzaam, depressief en geïsoleerd voelen, hebben tot 10 keer meer kans om ziek te worden en voortijdig te overlijden (bron: Cardioloog Dean Ornish: Love and Survival). Hier is de afgelopen jaren volop onderzoek naar gedaan. Door de genomen maatregelen en gebrek aan verbinding is het zeer waarschijnlijk dat mensen sneller overlijden aan eenzaamheid, dan wel dat het aantal verslavingen toe neemt en zelfs het aantal zelfmoorden. We zijn namelijk sociale wezens en willen verbinden.  Het verspreiden van angst en afkeer van het coronavirus kan, ironisch genoeg, het risico op ziek worden vergroten en het immuunsysteem onderdrukken. Verbinden en liefhebben is zo duidelijk bewezen dat het een grote verscheidenheid aan chronische ziekten zoals coronaire hartziekten, diabetes type 2 in een vroeg stadium kan omkeren.
Vanuit onze biologie kan het nooit de bedoeling zijn dat we alleen en geïsoleerd leven. We weten al jaren wat de effecten zijn van eenzaamheid op onze gezondheid en goed functionerend immuunsysteem. Het belang van sociale cohesie wordt daarbij vaak onderschat (Bron: Dan Buettner, Blue Zones). Onderzoek na onderzoek heeft aangetoond dat mensen die eenzaam en geïsoleerd zijn 3-10 keer meer kans hebben om ziek te worden en voortijdig te sterven aan vrijwel alle oorzaken in vergelijking met mensen met een sterk gevoel van liefde en gemeenschap.
Mensen die een masker dragen, dan wel het zien van mensen die een masker dragen, kan angst genereren om uiteenlopende redenen. Denk aan mensen die een overval hebben meegemaakt, seksueel misbruik, dan wel mensen met een stoornis aan het autistisch spectrum en gezichten nauwelijks kunnen 'lezen', of gewoon omdat het je vrijheid beperkt. Dit genereert psychologische en emotionele stress.  Traumatische herinneringen kunnen dus verband houden met gezichtsmaskers, tevens is er gebrek aan sociale signalen via gezichtsuitdrukkingen en dat kan ertoe leiden dat we gaan vechten, vluchten of bevriezen, afhankelijk van het de individuele traumageschiedenis. Veel traumatische herinneringen kunnen worden gekoppeld aan gezichtsmaskers. Mensen worden bijvoorbeeld soms beroofd of aangevallen door iemand met een masker, of misschien hebben ze medische procedures doorstaan, zoals kankerbehandelingen, tandarts, of hebben ze een virus ontwikkeld waarbij anderen gezichtsmaskers moesten dragen of het doet herinneren aan een oorlogstijd. Onderzoek naar psychologische stress toont aan dat deze vorm van stress een direct effect heeft op het gebruik van het genetische materiaal op ons DNA. Wetenschappers van Stanford University hebben ontdekt dat 75% van de variaties in het immuunsysteem van identieke tweelingen (die dus hetzelfde genoom delen) het gevolg was van invloeden uit de omgeving. 'De omgevingsfactoren overschaduwen de invloed van de meeste erfelijke factoren', beweert Mark M. Davis.
We kunnen dus stellen dat de omgeving een direct invloed heeft op hoe ons DNA reageert en de omgeving kan het gebruik van DNA veranderen. Cellen kunnen bij stress DNA uitwisselen om zo nieuwe en betere combinaties van genen te krijgen. Psychologische stressoren veranderen niet alleen hormoonbalansen en transcriptiefactoren maar hebben ook een directe werking op de hersenen zelf. Het effect van een stressrespons op het lichaam is enorm. Behalve het gebruik van genen op het DNA, worden ook de enzymen die betrokken zijn bij epigenetica, door stress beïnvloed. Om een lang verhaal kort te maken, stress verandert bijna alles (Pierre Capel, het emotionele DNA).
Stress door het dragen van gezichtsmaskers, zorgt voor een hogere hartslag en kan de lichaamstemperatuur wat verhogen, zeker bij verkeerde ademhaling, verkeerd gezichtsmasker of psychologische stress. Dit heeft een instant effect op het immuunsysteem.
Het gebruik van mondkapjes kan potentiële ademhalingsmoeilijkheden veroorzaken terwijl gezonde ademhaling juist het parasympatisch deel van het zenuwstelsel stimuleert waarmee je stress kunt reduceren, leert te ontspannen en je systeem zich kan herstellen. Wanneer je verkeert ademhaalt, wordt de 'fight & flight' modus geactiveerd. Je lichaam denkt dat het in gevaar is. Mensen die onjuist ademen of ademhalingsproblemen hebben of een slecht immuunsysteem, kunnen negatieve gevolgen ondervinden van het dragen van een masker. Daarnaast wanneer een persoon stress heeft, schakelt de afgifte van stresshormonen het immuunsysteem uit om de energie van het lichaam te behouden om weg te rennen van de waargenomen stressfactor: de evolutionaire 'vecht- of vluchtreactie'.
Zuurstof is onmisbaar voor ons lichaam, omdat we dit nodig hebben om de cellen van energie te voorzie. De hoeveelheid zuurstof in het bloed, zuurstof saturatie, blijkt uit sommige testen lager te worden door mondkapjes, bij andere testen is dit weer niet het geval. Dit kan leiden tot klachten als sufheid, verwardheid, onrust en benauwdheid. Download hier de flyer. Stukje tekst flyer: "Mensen kunnen wekenlang zonder voedsel leven, dagenlang zonder water, maar slechts minutenlang zonder te ademen. Het opnieuw inademen van onze uitgeademde lucht leidt onvermijdelijk tot een zuurstof (O2) tekort en een teveel van koolstofdioxide (CO2). We weten dat het menselijk brein zeer gevoelig reageert op zuurstofgebrek. Sommige zenuwcellen, bijvoorbeeld in de hippocampus, kunnen zonder zuurstof niet langer dan drie minuten overleven. De gevolgen kunnen zijn: hoofdpijn, slaperigheid, duizeligheid, concentratiestoornis, vertraagde reactietijden: allemaal acute waarschuwingssignalen van zuurstoftekort".  Juist gezonde buitenlucht inademen zorgt voor een gezonde zuurstofgehalte. Alhoewel Medische maskers, inclusief chirurgische maskers, routinematig door gezondheidswerkers gedurende de dag worden gedragen als onderdeel van hun persoonlijke beschermingsmiddelen (PBM) suggereert men dat hun zuurstofniveau niet in gevaar wordt gebracht en veroorzaken geen opbouw van kooldioxide. Ze zijn ontworpen om erdoorheen te ademen en kunnen bescherming bieden tegen ademhalingsdruppeltjes, die doorgaans veel groter zijn dan kleine koolstofdioxide-deeltjes … ". Volgens een USDA-onderzoek produceert een gemiddeld persoon ongeveer 450 liter (900 gram) CO2 per dag. In veel besloten ruimtes is er een direct verband tussen lage concentraties zuurstof en hoge concentraties CO2. Men suggereert dat Gezichtsmaskers een verwaarloosbaar negatief effect op de CO2- en O2-niveaus hebben, maar gedegen onderzoek ontbreekt. Interessant is dat bij de 45 minuten durende meting de CO2-meting daalde tot 33 mm HG. Dit wordt vaak geassocieerd met een aandoening die respiratoire alkalose wordt genoemd en die een effect kan zijn van hyperventilatie. Er is dus wisselend bewijs dat een masker het zuurstofgehalte in het bloed van een persoon verlaagt, maar het biedt zeker weerstand tegen een normale manier van ademen. Dit genereert weer psychologische en emotionele stress. Hoe dan ook, een opeenhoping van koolstofdioxide in een gezichtsmasker geeft nadelige gevolgen als een gevoel van verstikking. Dit vindt vooral plaats in de dode ruimte van het masker. Zie hier het onderzoek van TU-Delft.
Het wordt echter steeds duidelijker dat gevoelens verbonden zijn aan keiharde biochemie. Zij zijn niet alleen van invloed op het ontstaan en verloop van ziekten, maar ook bepalend voor de gezondheid en zelfs levensduur. Mensen zijn niet alleen rationele wezens, maar vooral emotionele wezens. Emoties die wij ervaren hebben een grote invloed op het functioneren van ons immuunsysteem. Angst, stress en eenzaamheid kunnen ons kwetsbaarder maken. In deze tijd waarin we het immuunsysteem heel hard nodig hebben, kan bijvoorbeeld eenzaamheid wel eens een heel negatief effect hebben op het verloop van een hoop ziektes (Pierre Capel,  emeritus hoogleraar).
 Wanneer we sociaal betrokken zijn en face-to-face communiceren, geven we elkaar informatie over onze emotionele toestanden door microbewegingen van gezichtsspieren. Op hun beurt ontvangen we via neuroceptie informatie van deze gebaren via een feedbacklus over de toestand van onze veiligheid. Mondmasker verhinderen deze informatie en dragen bij aan een staat van angst en ontregeling. Besef dat in het lichaam alles subtiel met elkaar verbonden is.
Oxytocine, het knuffelhormoon genoemd in de volksmond (een neuropeptide), speelt een rol bij sociale betrokkenheid als bij de remming van pijn. Elkaar aanraken, knuffelen, liefhebben draagt bij aan sociaal gedrag. Oxytocine en het broertje vasopressine zijn sterk betrokken bij sociaal gedrag. Maar het heeft nog meer functies. Het dempt de stressrespons en heeft een belangrijke interactie met het immuunsysteem.
De nervus vagus, een hersenzenuw, is uiterst cruciaal voor onze algehele gezondheid en is nauw verbonden met meerdere organen en systemen van het lichaam. Wanneer we sociaal betrokken zijn en face-to-face communiceren, geven we elkaar informatie over onze emotionele toestanden door microbewegingen van gezichtsspieren. Op hun beurt ontvangen we via neuroceptie informatie van deze gebaren via een feedbacklus over de toestand van onze veiligheid. Mondmasker verhinderen deze informatie en dragen bij aan een staat van angst en ontregeling. Besef dat in het lichaam alles  subtiel met elkaar verbonden is.
De Duitse neuroloog Margareta Griesz-Brisson waarschuwt voor hersenbeschadiging door gebruik van mondkapjes vanwege zuurstofgebrek, wat weer ontkend wordt dat dit mogelijk is. Maar sowieso zorgt gebrek aan zuurstof tot een verscheidenheid aan orgaan problemen.
Dragers van chirurgische maskers hadden significant meer dyspneu na een wandeling van 6 minuten dan dragers van niet-maskers.
Sociale betrokkenheid
In een eerder interview van een paar jaar geleden, special HR strategie, legde ik uit dat ons neurologisch ingebouwd systeem van sociale betrokkenheid ons in staat stelt om met anderen verbindingen aan te gaan en te gebruiken om onze fysiologische toestanden mee te reguleren en fysieke en mentale gezondheid te bevorderen. De nervus vagus speelt hier een belangrijke rol bij. De nervus vagus begint in de hersenstam, net achter de oren. Het loopt langs elke kant van de nek, over de borst en naar beneden door de buik. 'Vagus' is Latijn voor 'dwalen' en inderdaad bundelt deze bundel zenuwvezels door het lichaam en verbindt de hersenen met de maag en het spijsverteringskanaal, de longen, het hart, de milt, de darmen, de lever en de nieren, om nog maar te zwijgen van een reeks van andere zenuwen die betrokken zijn bij spraak, oogcontact, gezichtsuitdrukkingen en zelfs uw vermogen om af te stemmen op de stemmen van anderen. Het is gemaakt van duizenden en duizenden vezels en 80 procent daarvan is sensorisch, wat betekent dat de nervus vagus aan je hersenen rapporteert wat er in je organen gebeurt.
De nervus vagus of vagale zenuw speelt een sterke rol bij het bepalen van onze psychologische en emotionele veiligheid, vooral als het gaat om hoe we ons verhouden tot en reageren op andere mensen. De nervus vagus is een belangrijke regulator van sociale interactie.
Als jij je veilig voelt dan ben je in staat tot sociale betrokkenheid met andere mensen. Sociale betrokkenheid is neurologisch gezien een toestand die is gebaseerd op de activiteit van hersenzenuwen. Als we sociaal betrokken zijn, kunnen we gevoelens ervaren van liefde en vriendschap. We kunnen goed samenwerken, ons hechten aan anderen, met elkaar praten en voor elkaar zorgen, spelen, zingen, dansen enzovoort.  Deze sociale betrokkenheid ervaren we ook bij (huis)dieren en kunnen we genegenheid voor voelen. Wanneer we samen met anderen mensen zijn, voelen we ons maatschappelijk betrokken en voelen we ons beter. Aan de andere kant, als we deze mogelijkheid niet hebben tot positieve sociale interactie, kunnen we depressief, gestrest, eenzaam of zelfs agressief worden.
Het virus met de genomen maatregelen als lockdown, mondkapjes en 1:50 meter samenleving hebben een enorm effect op emotionele en psychologische veiligheid.
(Schijn)Veiligheid
Helpt het dragen van een mondkapje werkelijk om verspreiding van het corona virus tegen te gaan?  Of geeft het alleen maar schijnveiligheid voor de mensen die hierin geloven?  Veiligheid en vertrouwen is terug te voeren op een neurofysiologisch model, de polyvagaal theorie. Deze theorie is onderdeel van de Gelukscoach opleiding en erg nuttig om te begrijpen hoe neurologisch gezien veiligheid werkt, het model benadrukt dat veiligheid gestalte krijgt doordat iemand zich veilig voelt en niet doordat dreiging is weggenomen. Of iemand zich veilig voelt hangt bijvoorbeeld af van positieve gezichtsuitdrukkingen en gebaren. Sociale verbondenheid wat kenmerkend is voor vertrouwelijke relaties die mensen met elkaar hebben is, biologisch imperatief.
Stephen Porges benadrukt het belang om te erkennen dat we momenteel allemaal een chronische bedreiging ervaren. Onze intuïtieve menselijke reactie wanneer ze worden bedreigd, is op zoek naar een veilige en vertrouwde ander met wie ze samen kunnen reguleren. Deze natuurlijke cyclus wordt echter verstoord wanneer we ons thuis isoleren of online als therapeut werken in plaats van face to face, dan wel mondmaskers dragen en een groot deel van de gezichtsexpressie niet zichtbaar is.
Zoals Jan Rotmans zo mooi zegt: 'Bij iedere crisis gaat een deel van de mensen anders denken. Als genoeg mensen dat stadium bereiken, komen we op een kantelpunt. De coronacrisis versnelt dat proces'.
Is Covid-19 een uitdaging voor ons zenuwstelsel?
Het menselijk zenuwstelsel is afgestemd om veiligheid en gevaar te detecteren en integreert lichaams- en hersenreacties via het autonome zenuwstelsel. De pandemische gevolgen voor onze biologische noodzaak om contact te maken, aangezien de COVID-19-crisis onze samenleving uitdaagt, heeft zeker een effect op ons zenuwstelsel. Deze crisis roept dreigings-gerelateerde reacties op en het vermogen om gedrag- en emotionele toestanden te reguleren raakt verstoort, ons optimisme raakt verstoort en het vermogen om elkaar te vertrouwen en je veilig te voelen bij een ander komt in gevaar. We zijn namelijk sociale wezens, een sociaal soort. Een sociale soort zijn, benadrukt expliciet dat menselijke overleving afhankelijk is van het co-reguleren van onze neurofysiologische toestand via sociale interactie.
De pandemische effecten zijn  verwoestend voor ons zenuwstelsel vanwege onze neurale gevoeligheid. Natuurlijk kunnen we ons meer bewust afstemmen op gezichtsuitdrukking, vocale intonatie en face-to-face interacties bij het dragen van mondkapjes. Maar overall hebben mondmaskers eerder een negatief effect op onze neurologie dan een positief effect.
De fysiologische toestand van een individu biedt dus een portaal om te begrijpen hoe ze op de pandemie zullen reageren. Als we ons bijvoorbeeld in een autonome staat van verdediging bevinden, zal de dreiging van ziekte worden verergerd door het gebrek aan mogelijkheden tot co-regulering. De strategieën voor de volksgezondheid om de curve af te vlakken en de overdracht van de ziekte te vertragen door sociale distantiëring en zelfquarantaine, zullen de negatieve impact van de pandemie op ons echter verergeren.
Om de mensen om ons heen te kunnen steunen als ze zich angstig of ongemakkelijk voelen, kunnen we niet zomaar tegen ze zeggen: 'vergeet het maar, het is niet belangrijk'.  Het zou ieders doel moeten zijn om de mensen om ons heen te ondersteunen zodat ze zich veiliger voelen.
Als de overheid, politie en leerkrachten zouden weten dat de huidige strategie van mondmaskers, isolatie en 1.5 meter samenleving een paradox is voor het zenuwstelsel en onze behoeften om met andere mensen om te gaan, te verbinden, is juist begrip nodig en geen straf. Alle maatregelen staan haaks tegenover ons evolutionair instinct. Nogmaals de waarde van het horen van iemands stem of zien van iemands gezicht is een krachtig geruststellend teken van veiligheid voor ons zenuwstelsel. We kunnen de impuls om ons te verbinden gewoon niet negeren.
Onze lichamelijke gevoelens willen worden vastgehouden, veilig willen zijn bij de mensen die we vertrouwen. Want naarmate we isoleren, worden de gescheiden lichamen en zenuwstelsels defensiever.
Is er goed gedocumenteerd materiaal over mondmaskers?
NEE, er is geen goed gedocumenteerd materiaal, wel veel onduidelijkheid. Ondanks dat er meerdere meta-analyses verschijnen over de effectiviteit van het dragen van mondkapjes door gezonde mensen ontbreekt evident wetenschappelijk bewijs. Er is vooral veel verwarring en tegenstrijdigheden. Niet alleen bij het RIVM, dan wel de politiek of het OMT, wat weer een effect heeft op vertrouwen.
Tijdens griepseizoen worden mondkapjes nimmer geadviseerd. In deze review In deze review hebben ze geen bewijs gevonden om een beschermend effect van persoonlijke beschermingsmaatregelen of milieumaatregelen om de overdracht van influenza te verminderen. Bij gerandomiseerde proeven met handhygiëne en gezichtsmaskers is geen bescherming aangetoond tegen laboratorium-bevestigde influenza. Er is geen bewijs gevonden dat chirurgische gezichtmaskers effectief zijn in het verminderen van door laboratorium bevestigde influenza-overdracht, hetzij wanneer gedragen door geïnfecteerd personen (broncontrole) of door personen in het algemeen gemeenschap om hun vatbaarheid te verminderen.
CDC (Centers for Disease Control and Prevention) adviseert op de site hoe je een stoffen (of textiel) gezichtsmasker maakt en draagt en hoe je het moet dragen. In juni stond er nog nergens vermeldt waarom je dit zou moeten dragen. Sinds kort is dit aangevuld. Bescherming op gemeenschapsniveau die wordt geboden door het gebruik van stoffen gezichtsbedekkingen kan het aantal nieuwe infecties verminderen en een voorzichtige versoepeling van meer maatschappelijk ontwrichtende gemeenschapsinterventies, zoals huisarrest en bedrijfssluitingen, vergemakkelijken. Het gaat over twee rapporten die in Morbidity and Mortality Weekly Report zijn gepubliceerd. Bij het analyseren van de rapporten zijn er vragenlijsten gebruikt en cliënten geïnterviewd, wat natuurlijk geen goed onderzoek is.
Rijksoverheid Nederland legt op de website bij veelgestelde vragen niets uit over het wetenschappelijke bewijs dat het werkt. Geeft wel antwoord op allerlei vragen, maar geen wetenschappelijke onderbouwing. Dit is 18-10-2020 nogmaals gecontroleerd.
Dr. Shiva legt duidelijk uit dat er (tot nu toe, 18-10-2020) geen klinisch bewijs is over de effectiviteit van gezichtsmaskers. Als je kijkt naar de literatuur is er een controle-vergelijking gedaan bij een kleine doelgroep. De conclusie was dat virussen het masker kunnen binnendringen. Noch chirurgische noch katoenen maskers filterden effectief SARS-CoV-2 tijdens hoest door geïnfecteerde patiënten. Concluderend, zowel chirurgische als katoenen maskers lijken niet effectief te zijn in het voorkomen van de verspreiding van SARS-CoV-2 vanuit de hoest van patiënten met COVID-19 naar de omgeving en het externe maskeroppervlak. Chirurgische masker filteren het virus dus niet!! Ditzelfde geldt uiteraard ook voor stoffen of textielen gezichtsmaskers. Ook bleek uit dit onderzoek dat als je hoest bij het dragen van een soortgelijk masker, het virus op de buitenkant van het masker terecht komt. Het virus gaat dus door het masker heen bij hoesten. Zowel een stoffen gezichtsmasker als een chirurgisch masker. Er bleek een grotere vervuiling aan de buitenkant van het masker te ontstaan eerder dan aan de binnenkant van het masker. (https://www.acpjournals.org/doi/10.7326/M20-1342)
Een cluster gerandomiseerde studie van stoffen maskers vergeleken met medische maskers bij gezondheidswerkersbleek dat er 13% MEER KANS was om griepachtige verschijnselen te krijgen, vergeleken met degene die medische maskers droegen. Deze studie is de eerste RCT van stoffen maskers, en de resultaten waarschuwen voor het gebruik van stoffen maskers. Dit is een belangrijke bevinding om de gezondheid en veiligheid op het werk te informeren. Vocht vasthouden, hergebruik van stoffen maskers en slechte filtratie kunnen leiden tot een verhoogd risico op infectie. Verder onderzoek is nodig om het wijdverbreide gebruik van stoffen maskers wereldwijd te informeren. Als voorzorgsmaatregel mogen stoffen maskers echter niet worden aanbevolen, met name in risicovolle situaties, en moeten de richtlijnen worden bijgewerkt. Dus als je een STOFFEN MONDKAP draagt in het openbaar vervoer heb je 13 keer meer toename voor het krijgen van griepachtige verschijnselen volgens dit onderzoek. Het dragen van een stoffen mondkap geeft dus een verhoogde kans op het verkrijgen van een virus (gerandomiseerde controlestudie). Dus stel, jij bent drager van Covid (A-symptomatisch) en iemand naast jou heeft het niet. Jij hoest vervolgens. De link van de 1e studie laat zien dat het virus door het mondkapje heen gaat. En de 2e studie laat zien dat je door het dragen van een stoffen mondkap je 13 keer meer kans hebt jezelf te besmetten. Dit beschermd je niet, sterker nog, de kans neemt toe als je drager bent maar geen klachten hebt……….en je beschermt de ander niet. Het risico op infectie kan zelfs toenemen door vochtophoping tijdens het dragen van een masker.
Het RIVM geeft op haar site aan dat de kwaliteit van een zelfgemaakt masker is meestal niet goed. Dat komt doordat er verschillende materialen worden gebruikt zoals katoen, linnen en zelfs stofzuigerzakken. Dat zorgt ervoor dat de pasvorm en de filterwerking niet goed zijn. Daarom raden we aan om alleen maskers te gebruiken die voldoen aan de norm.
Een Randomized Control Trial voor de verspreiding van het influenzavirus gepubliceerd in de British Medical Journaltoont aan dat mondkapjes 97% van de virusdeeltjes kunnen doorlaten. En….het risico op infectie kan zelfs toenemen door vochtophoping tijdens het dragen van het masker. En niet te vergeten, een toename aan plastic afval.
Het gezicht heeft de hoogste dichtheid van thermoreceptoren, 5x tot 7x meer dan enig ander lichaamsdeel om warmte en kou te voelen om de temperatuur en andere biologische functies te reguleren. Het gebruik van beschermende gezichtsmaskers (PFM's) heeft een negatieve invloed op de ademhalings- en huidmechanismen van menselijke thermoregulatie. Hierdoor kan het  voor velen moeilijk wordt om constant te dragen. Een masker kan vuil worden door overmatig vocht en besmet met ziekteverwekkers in de lucht. En omdat je stem gedempt is; individuen moeten mogelijk dichter bij mensen komen, vooral ouderen, om je te kunnen horen.
Tot slot is er nog onderzoek gedaan naar het N95 masker. Wat niet gebruikt mag worden in openbaar vervoer (net als chirurgische maskers) maar wel door gezondheidswerkers gebruikt wordt ter bescherming van virussen. Deze maskers mogen niet langer gedragen worden dan 1 of 2 uur achter elkaar, want draag je het langer dan:
– Genereert het hoofdpijn en als je vatbaar bent voor hoofdpijn neemt dat toe.
– Mensen met COPD, emfyseem of longfibrose die een gezichtsmasker dragen, van welke aard dan ook, worden kortademiger en kan een verslechtering van de longfunctie veroorzaken en een aanzienlijke vermindering van het zuurstof in het bloed.
– De balans van de gasuitwisseling wordt verstoord en voor zwangere of zieke mensen is dit zorgwekkend.
Een review uit 2012 in het tijdschrift Respiratory Virus, waarin zeventien studies werden onderzocht naar het effect van het dragen van mondkapjes en medische kapjes op de verspreiding van het influenzavirus, wordt geconcludeerd dat er geen beschermend effect is. Gegevens van dergelijke studies voor SARS-COV-2 zijn niet bekend. Wel weten we dat een gezichtsmasker met filter, wat door medici gebruikt wordt, wel beschermd maar bij langdurig gebruik problemen geeft met ademhaling.
Natuurlijk gebruiken chirurgen en verpleegkundigen gezichtsmaskers bij operaties of besmet verplegen. Als een chirurg aan de operatiekamer met zijn zelfgemaakte theedoek zou werken, kan ik je garanderen dat dit niet aan specifieke normen voldoet. De textiele of chirurgische gezichtsmaskers die je bij de drogist koopt en verplicht zijn in OV zijn hiervoor niet geschikt.  Zij gebruiken operatiemaskers of medische maskers om te voorkomen dat de arts tijdens een operatie in een open wond niest of praat, zo wordt het steriele operatieveld behouden. Ook hiervoor geldt de richtlijn een masker niet langer dan 3 uur te dragen. Dit kan hypoxie en hypercapnie veroorzaken, echter stelt onderzoek dat het onwaarschijnlijk is dat het dragen van een masker hypercapnie veroorzaakt.
ECHTER, stress van welke aard dan ook induceert een verhoogde productie van heem-oxygenase-1 (HO-1), het zogenaamde 'universele stress-enzym' dat door het hele lichaam wordt aangetroffen en dat heem uit heem-eiwitten afbreekt in ijzer, biliverdine (dat vervolgens wordt omgezet in bilirubine , een krachtige antioxidant) en koolmonoxide. De spanningen waarvan is aangetoond dat ze HO-1 veroorzaken bij dieren en mensen, zijn onder meer warmte, licht, geluid, geuren, elektromagnetische velden, infectie, fysiek trauma en mentale of psychologische stress. Chronische stress in elk van deze routes resulteert dus in chronische vernietiging van heem en chronische lage CO-vergiftiging.  Met een mondkapje ga je inderdaad een beetje 're-breathen' zoals dat heet waarbij het opmerkelijk is dat de longen dan wel harder hun best gaan doen om CO2 en CO uit te scheiden. Daarom slapen veel dieren opgerold met hun neus in hun vacht. De productie van heem-oxygenase HO-1 kon je afremmen met zink. Dus als je veel stress ondervindt, wat nu bij heel veel mensen het geval is, is het wel goed om 1-2 zinktabletten per dag te nemen. Het is ook goed voor je afweersysteem, maar laat je vooral eerst adviseren door je huisarts hierover.
Veel voorkomende symptomen van koolmonoxidevergiftiging:
-Hoofdpijn
-Vermoeidheid, zwakte
-Spierpijn, krampen
-Misselijkheid, braken
-Maagklachten, diarree
-Verwarring, geheugenverlies
-Duizeligheid, coördinatiestoornissen
-Pijn op de borst, snelle hartslag
-Moeilijke of oppervlakkige ademhaling
-Veranderingen in gevoeligheid van horen, zien, ruiken, proeven of aanraken
Omdat al deze symptomen bij zoveel aandoeningen voorkomen, wordt geen enkele als diagnostisch van CO-vergiftiging (koolmonoxide ipv kooldiode) beschouwd, maar CO moet worden vermoed wanneer de meerderheid van deze symptomen samen wordt gerapporteerd en er geen andere oorzaak kan worden vastgesteld, vooral als dezelfde symptomen worden gerapporteerd door meer dan één bewoner van de besloten ruimte (gebouw, voertuig, boot of vliegtuig) maar wellicht ook wel door een mondkapje.
We weten dat als mensen een verlaagd immuunsysteem hebben (Diabetici type 2, mensen met hartklachten, kanker, ouderdom etc. ), ze vatbaarder zijn voor covid-19. Maar ook als mensen een gezond immuunsysteem hebben, zorgt stress en angst ervoor dat je immuunsysteem op een laag pitje gaat. De gezichtsmaskers die verplicht zijn in het OV creëren stress omdat je lichaam direct reageert op de verminderde inname van zuurstof. Dit genereert een hogere cortisol spiegel en heeft een effect op je immuunsysteem. Dit wordt nog verergerd als je geen gezichtsmasker wilt dragen, maar dit verplicht bent. We weten namelijk uit studies dat gedachten, percepties en programma's rechtstreeks invloed hebben op ons biologisch systeem.
Wetenschappelijke onderbouwing m.b.t. het mondkapje is, zoals minister-president Mark Rutte het formuleerde, flinterdun. Tot 1 juni was het dragen van mondkapjes nog niet verplicht. Sinds eind april en ook na de versoepeling van de intelligente lockdown zien we een gestage daling van het aantal infecties. En toch is er een verandering in het beleid, zoals per 1 juli de verplichting van mondkapjes in het OV en nu inmiddels ook een dwingend advies in publieke ruimtes.
Mondkapjes hebben geen medische werking, maar wel een gedragsmatige, ook volgens het OMT.
Angst zaaien heeft ook een gedragsmatige werking, en hier gaat vaak een heel proces aan vooraf. Denk aan media-manipulatie, wisselende informatie RIVM, angst zaaien enzovoort. Burgemeesters (Rotterdam en Amsterdam) hebben geëxperimenteerd met mondmaskers. Dit is verboden. Dus check dit goed na, burgers zijn namelijk geen proefkonijnen. Het gebeurt zo fnuikend en zo onzichtbaar, dat velen het niet zien, men noemt dat ook wel psychologische operatie. Het wordt niet als gevaarlijk ervaren maar juist als iets wat als belangrijk gezien wordt voor onze gezondheid. Dus ga zelf altijd op onderzoek uit.
Je mag met een noodverordening van de wet afwijken, maar niet van de Grondwet. Jan Brouwer, hoogleraar
Stand van zaken
Wat zijn nu de seizoenpatronen van diverse virussen? Als je de grafiek bekijkt, dan zie je wel piekmomenten, maar in verhouding kun je ook stellen dat het verplicht stellen van niet-medische mondkapjes gewoon niet te verklaren is. Ook is het grondwettelijk gezien (nog) niet mogelijk en wekt het schijnveiligheid op, wat toch echt een verkeerde indruk is en misleidend. Zolang niet het juiste type mondmasker gebruikt wordt, het onjuist gebruikt wordt, het niet op tijd wordt vervangen of face-fit zit, heeft het gewoon geen effect, sterker nog, werkt het eerder averechts. Daarnaast kijkt niemand uit naar een mondmasker-maatschappij of 1,5 meter samenleving, behalve als blijkt dat Covid-19 (volgens de modellen) ook echt een killer-virus zou zijn. Is er echt sprake van een noodtoestand? Als je dit als burgemeester noodzakelijk vindt, dan is dat jammer. De Grondwet en Gemeentewet staan dit niet toe.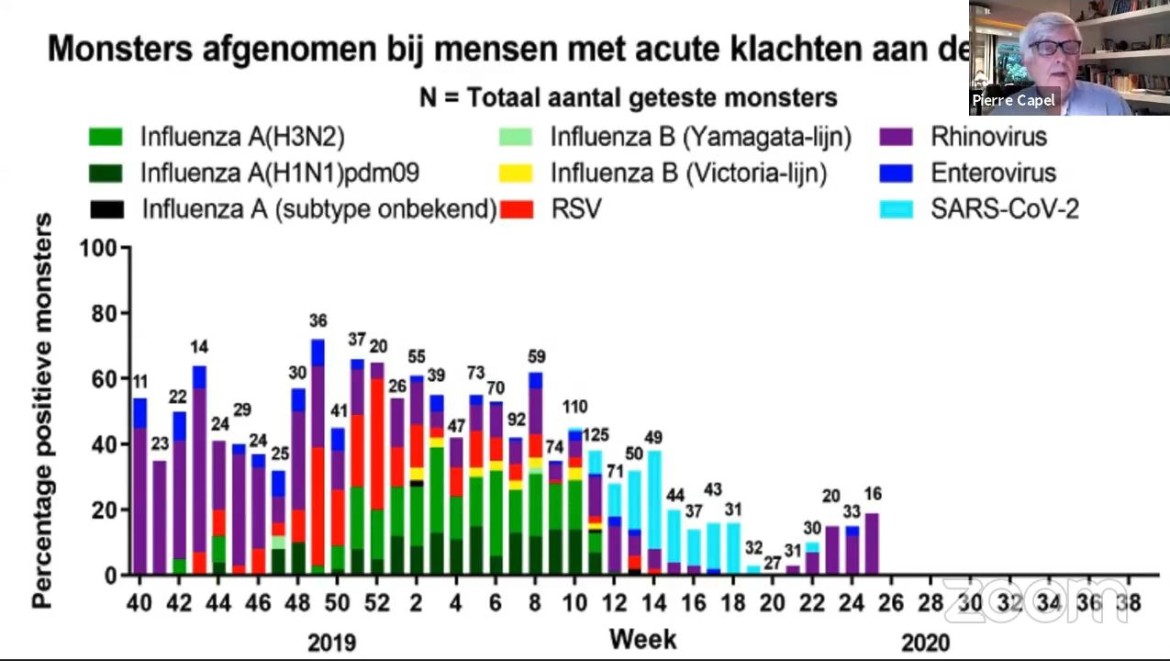 Het RIVM ziet op basis van de nieuwste wetenschappelijke gegevens geen bewijs om het dragen van niet-medische mondkapjes verplicht te stellen. Wel willen veiligheidsregio's mondkapjes inzetten om te kijken of het dragen ervan invloed kan hebben op het gedrag van mensen. Toch voelen Burgemeesters zich geroepen om mondkapjes te verplichten omdat dit bijdraagt aan het automatisch meer afstand houden. Het heeft dus een gedragsmatige werking en totaal geen medische.
Wat doet schijnveiligheid?
Ik begrijp het idee van psychologische bescherming die mensen voelen als iets hun mond en neus bedekt. Echter is dit en vals gevoel van veiligheid. Perceptie = geen realiteit. Onze gezondheid is essentieel. Daar ben je zelf verantwoordelijk voor. Toch vertrouwen velen hun gezondheid toe aan anderen en geloven dat een goede gezondheid alleen via een injectiespuit of vaccin komt. Het is echt belangrijk om bewustzijn op te zetten op alles wat er gebeurt en te onderzoeken wat klopt en wat niet klopt. De burgemeesters en de minister erkennen na een lange publieke discussie dat er vanuit gezondheidsperspectief geen reden bestaat om een niet-medisch mondkapje te verplichten. Ondanks het ontbreken van elke effectiviteit willen de burgemeester deze verplichting op onduidelijke gronden toch doordrukken. Het nieuwe argument is dat het dragen van mondkapjes gericht kan zijn op gedragsverandering. Het is onderdeel van een sociaal experiment (waar men niet voor gevraagd is maar wordt afgedwongen).
Vergeet niet dat we al zo vaak als experiment zijn gebruikt. Zet er eens bewustzijn op door de geschiedenis te analyseren en ga zelf op onderzoek uit. Geloof niet zomaar wat je verteld wordt.  Volgende week ligt de noodwet in de 1e kamer. Het wordt er stilletjes doorheen gedrukt, net zoals al eeuwen er stiekem veel doorheen wordt gedrukt.
Weet jij eigenlijk wel wat betekent? De noodwet?  We zijn zo goedgelovig dat we bijna niet kunnen geloven dat we als experiment gebruikt worden.  Dit komt ook omdat het een giga psychologische operatie is, wapens gericht op je mind. Ik gun ons allen een veel ruimer bewustzijn zodat je vanuit een brede perspectief kunt zien wat er gebeurt en de geschiedenis zich niet hoeft te herhalen. Dat is de kracht die wij mensen hebben, individueel en collectief. Niet vanuit haat of wraak, maar vanuit kracht en liefde. Werk aan jezelf.
Als jij gelooft dat mondkapjes veilig zijn, dan zal je minder snel stresshormonen aanmaken dan dat je gelooft dat het juist slecht voor je is. It's all in the mind. Maar wat je ook gelooft, mondkapjes kunnen ervoor zorgen dat je juist minder oplettend bent. Het is ook wel bijzonder dat het dragen van mondkapjes verschillend is van land tot land. Een virus is toch een virus zou je denken? En wetenschap is toch wetenschap? Of putten we allemaal uit een ander vaatje?
Wat het ook is, het is voornamelijk gebaseerd op emoties en niet op wetenschap. Er zijn zelfs mensen die alleen op de fiets zitten of in de auto en een mondkapje dragen. Dit gaat echt nergens over. Behalve als jij gelooft dat dit werkt, zal je minder stresshormonen aanmaken. Maar door wie of wat ben jij dit gaan geloven?
Vergeet niet dat er verschillende types mondmaskers zijn.  De medische en niet medische. En de mondmaskers die de niet medische mensen dragen zijn dus allemaal de niet medische mondmaskers: de textiele en de chirurgische of zelfgemaakte. De FFP2 of FFP3 bieden wel bescherming, maar daar hebben we het nu niet over. Met de textiele mondkapjes en de chirurgische kun je wel degelijk mensen besmetten. De mondkapjes worden dus alleen ingezet omdat de overheid en het outbreak team bang is omdat de anderhalve meter afstand niet in acht genomen wordt. Maar realiseer je dat ook die ander halve meter afstand een advies is en geen wetenschappelijk feit.
Mondkapjes hebben dus geen medische of gezondheidsreden, maar voor controle uitoefening en gedragsbeïnvloeding, psychologisch!
Professor Susan Michie, lid van de subgroep Wetenschappelijke Adviesgroep voor noodsituaties over gedragswetenschappen, zei dat veel mensen die met het OV gaan, niet weten hoe ze hun gezicht correct moeten bedekken en brengen zichzelf en de mensen om hen heen onbewust in gevaar, zegt Professor Susan Michie. Zij is hoogleraar gezondheidspsychologie en Co-directeur van de MSc in gedragsverandering. Haar onderzoek richt zich dus op gedragsverandering in relatie tot gezondheid en milieu en deskundig in gedragswetenschap. Tevens adviseur van de WHO voor covid-19 en gedrag. Zij is geen arts maar is aangesteld om gedragsmatig haar visie te geven over mondkapjes.
Het dragen van mondbedekking is schadelijk voor de gezondheid, heeft geen bewezen effectiviteit om de verspreiding van het virussen tegen te houden. Ik kan geen andere conclusie trekken dat mondbedekking manipulatief is en aangezien de gezondheidsklachten groter zijn dan de voordelen, zou het verboden moeten worden. Er wordt met mensenlevens gespeeld en het is eerder een psychologische operatie ofwel een psy-op dan een medische.
Wetenschappelijke onderzoek heeft nadelige effecten van luchtverontreiniging op het immuunsysteem aangetoond. Tegelijk kan er door verontreinigingen een toename ontstaan in de expressie van het aantal angiotensine-converterend enzym (ACE) receptoren. Dit betekent dat er meer receptoren beschikbaar zijn waar het virus zich aan kan binden waardoor een ernstiger beloop van COVID-19 mogelijk is. Universiteit van Harvard toont een significant verband tussen de ernst van het verloop van COVID-19 en de mate van luchtverontreiniging.
Gebruik mondkapjes vergroten verspreiding van het virus zegt een onderzoek gepubliceerd in het British Medical Journal in 2015. Dit wordt veroorzaakt omdat de meeste mensen onvoldoende inzicht hebben in het verantwoord gebruik van mondkapjes. Wetenschappelijk onderzoek naar het effect van het gebruik van chirurgische maskers toonde een hogere concentratie van virussen en bacteriën aan de buitenzijde van het masker. Hergebruik van mondkapjes kan daarom leiden tot een grotere kans op infecties.
Uit studies blijkt dat de pasvorm en beperkte filterkwaliteit van medische maskers de persoon niet kunnen beschermen tegen luchtweginfecties. Medische maskers worden niet gecertificeerd voor de bescherming tegen infecties die via aerosolen worden overgedragen. De kwaliteitseisen zijn beperkt.
Het dragen van mondkapjes heeft geen aanwijsbare positieve impact op de vermindering van het aantal besmettingen met het SARS-COV-2-virus. Aan de andere kant tonen steeds meer publicaties aan dat de textiele en chirurgische mondkapjes een averechts effect hebben op de gezondheid EN de economie.
Viroloog professor dr. Streeck vindt het dragen van mondmaskers in publieke ruimtes een potentiële infectiehaard van bacteriën en schimmels.
Dr. Russel Blaylock waarschuwt dat gezichtsmaskers niet alleen de gezonde mensen niet beschermen tegen ziek worden, maar dat ze ook ernstige gezondheidsrisico's voor de drager opleveren.
Dr. Jenny Harries is van mening dat het dragen van een masker door gezonde mensen eerder een risico vormt door ondeskundig gebruik ervan. De huidige paniek heeft ertoe geleid dat iedereen maskers draagt, zelfs als hij of zij buiten loopt of in de auto rijdt. Dergelijke op angst gebaseerde besluitvorming wordt niet wetenschappelijk onderbouwd. Het dragen van mondkapjes kan juist infecties laten toenemen.
Jaap van Dissel blijft bij zijn eerdere standpunt dat het dragen van niet medische mondkapjes niet nodig is. De directeur Infectieziekten bij het RIVM herhaalt desgevraagd dat mondkapjes volgens hem "een buitengewoon gering effect" hebben op de pogingen om de verspreiding van het coronavirus in te dammen.
Welke gezichtsbedekking zijn er en welke werken het beste?
Chirurgische masker
Chirurgische maskers bieden volgens onderzoek geen bescherming tegen influenza. De chirurgische maskers mogen alleen gebruikt worden door zorgpersoneel. Een andere studie zegt dat chirurgische maskers een penetratieverhouding van ongeveer 85% van aerosol geïnactiveerde influenza deeltjes. De maskers van de chirurgen bleken geen beschermend effect te hebben op de patiënten.
Een andere studie laat zien dat er geen duidelijk bewijs is dat gezichtsmaskers de chirurg nog de patiënt beschermen tegen besmetting. Weer een andere studie beweert dat proefpersonen die hoesten tijdens het dragen van een chirurgisch masker, noch chirurgische noch katoenen maskers effectief SARS-CoV-2 filterden tijdens hoest door geïnfecteerde patiënten. Wel werden er meer virale deeltjes aan de buitenkant gevonden dan aan de binnenkant van geteste maskers.
N95 Masker
Dit masker is vergelijkbaar met de FFP2/3 maskers. Mag ook alleen gebruikt worden door medici, zorgpersoneel en voor besmet verplegen. Een N95-masker is een ademhalingsbeschermingsmasker dat voldoet aan de Amerikaanse N95-norm voor luchtfiltratie. Het betekent dat een filter ten minste 95% van de deeltjes in de lucht filtert. Het filter beschermt tegen deeltjes, maar niet tegen gassen of dampen beweert Wikipedia. Echter uit deze meta analyse blijkt dat de N95 maskers geen superieure bescherming bieden tegen virale infecties of griepachtige infecties. Bij goed passende mondmaskers vond deze studie wel bescherming in vergelijking met chirurgische maskers. Merendeel echter laat onderzoek zien dat de N95 maskers zichtbare gaten en openingen vertonen.
Stoffen masker
Stoffen maskers dragen bij om 13 keer meer kans te hebben op griepachtige ziekten dan degenen die medische maskers dragen.
De meeste maskers die in de winkels en online te koop zijn, kunnen je dus niet tegen virussen beschermen, de niet medische mondmaskers
Niet medische mondmaskers
Hoe weten we, gezien de grote verscheidenheid aan ongereguleerde gezichtsbedekkingen die mensen nu dragen in de OV en sommige steden, welke het meest effectief is? En wat is effectief? Het coronavirusdeeltje is ongeveer 0,08 micrometer en de weefsels in een typische stoffen gezichtsbedekking openingen zijn ongeveer 1000 keer groter, tussen de 1 en 0,1 millimeter. Effectief kan het dus eigenlijk nooit zijn. Het enige wat het wel zou kunnen doen is hetzelfde als we hoesten en onze hand voor onze mond houden. Een mondkapje kan dan de afstand verkleinen die je adem van je lichaam af verspreidt. Het idee is namelijk dat je het virus kunt uitademen binnen 1.5 meter.
Een zelfgemaakte gezichtsbedekking kan dus NOOIT voorkomen dat je als drager het virus oploopt, daarvoor zijn de aan normen goedgekeurde chirurgische FFP2-maskers. Echter deze maskers mogen alleen in de zorg gebruikt worden om tekorten te voorkomen. Maar welk materiaal zorgt er voor dat je adem het minst ver van je lichaam af reist? Werken mondmaskers die om de oren lopen beter dan sjaals? Hoe ver onder je kin moet een bedekking gaan? Wat is de beste neus passing? Hoe verhouden gezichtsschermen zich tot gezichtsmaskers? Om deze antwoorden te verkrijgen kun je gebruik maken van een kaars en deze recht voor jou als mondkapjesdrager uit te blazen en ontdekken welke je adem het minst verspreidt Bron, klik hier.  
Doe ook zeker dezelfde oefening zonder mondmasker maar met je handen voor je mond als je blaast en zie dat het resultaat prima is om de afstand te verkleinen die je adem van je lichaam af verspreidt. Dus in die zin is geen enkel mondkapje nodig.
Overigens is er bij 2 metabolische equivalenten (bijv. Langzaam lopen tijdens rondes), verhoogt het gebruik van het N95-masker merkbaar de ingeademde kooldioxide, vermindert de ingeademde zuurstof en verhoogt het de ademhalingsarbeid.
Sinds kort heeft TU-Delft het initiatief opgepakt op gezichtsmaskers te testen, iets wat de politiek heeft nagelaten, maar wel mondkapjes verplicht stelt.  Tot nu toe zijn getest:
Mondkapje blauw tissue, vijf stuks voor 3,99 euro (0,80 euro per stuk)
Mondkapje van twee lagen katoen voor 3,99 euro (los filter eventueel in te stoppen)
Mondkapje van polyester voor 5 euro
Mondkapje van 50 procent bamboe en 50 procent polyamide voor 9,99 euro
Mondkapje van zijde en twee lagen katoen, laten maken door kleermaker
Mondkapje van oud laken, laten maken door kleermaker op basis van patroon van Rijksoverheid
Mondkapje KN95, medisch masker van kunststof, twee stuks voor 9 euro (4,95 euro per stuk)
Als iemand besmet is, hecht het virus zich aan die aerosolen die uitgeademd worden. Een mondmasker zou dit tegen moeten houden, maar de test laat dus zien dat dit MEESTAL niet het geval is. Sommige maskers, zo vertelt wetenschapper Philomena Bluyssen, bieden alleen 'schijnveiligheid'. Wel denken de wetenschappers dat de meeste mondmaskers bescherming bieden als iemand hoest of niest, maar daar is geen bewijst van. TU Delft gaat dit binnenkort nog testen met echte proefpersonen.
Een medisch masker, waarvan het ministerie van Volksgezondheid, Welzijn en Sport (VWS) eigenlijk niet wil dat consumenten het kopen, kwam als beste uit de test. Alleen het medische KN95 masker werd als 'goed' getest. Het ministerie van VWS raadt af om er KN95 masker te kopen. "De KN95-gezichtsmaskers staan gelijk aan de FFP2-gezichtsmaskers en zijn in eerste instantie bedoeld voor de zorg", aldus een woordvoerder.
We zijn dus verplicht iets te dragen wat bewezen niet werkt, maar wel bewezen schadelijk voor je eigen gezondheid kan zijn.
Het masker van polyester, bamboe en zijde kwamen slecht uit de test. Net als het masker van een oud laken, gemaakt op basis van het patroon dat de overheid beschikbaar heeft gesteld. Na de test van Kassa heeft de overheid besloten dit patroon offline te halen. Klik hier voor de uitzending van Kassa.
Het is overigens wel bijzonder dat de SP in dit programma suggereert dat de politiek heeft gefaald mbt de mondkapjes, maar ook SP is voor de Noodwet en voor mondkapjes. Hoe kun je voor mondkapjes zijn terwijl dit niet onderzocht is en achteraf dit falend beleid gebruikt om je eigen partij te promoten? Nee, vooraf wil je eerst het onderzoeksbewijs of mondkapjes werken en dan pas neem je een besluit, in samenspraak met de burgers.
Overige gevaren niet-medische mondkapjes
Gezondheidswerkers die stoffen maskers droegen, hadden significant hogere percentages griepachtige ziekten. (Referentie) De verhoogde infectiegraad bij maskerdragers kan te wijten zijn aan een verzwakking van de immuun functie tijdens het dragen van een masker.
De meeste voorgaande gegevens laten zien dat maskers eerder de gezondheid negatief beïnvloeden, dan dat het effectieve werkt tegen ziekteverwekkers.
Peltzman effect
Het Peltzman effect suggereert dat bijvoorbeeld het invoeren van een veiligheidsmaatregel kan leiden tot compenserend risicogedrag. Bijvoorbeeld het dragen van een autogordel kan leiden tot harder rijden. In de context van corona kan het dragen van een masker mensen een veiliger gevoel geven en daardoor kan men sociale afstand of handen wassen juist negeren. Uiteraard is hier nog geen onderzoek naar gedaan tijdens deze pandemie, is er wel onderzoek gedaan voor de pandemie wat aantoont dat mensen inderdaad slechtere handhygiëne toepassen als zij een masker dragen. Bovendien kan het dragen van een masker aanleiding geven tot ander gedrag dat het virus juist overdraagt. Zoals bijvoorbeeld het aanraken van je eigen gezicht. Mensen raken hun gezicht al gemiddeld 15-23 keer per uur aan, maar met een masker is dat altijd meer.
Aangezien deze masker geen effectiviteit hebben moeten we ook niet vergeten dat er een aanzienlijk gevaar voor het milieu is voor wat betreft niet recyclebaar plastic afval.
Een masker kan ook het risico om COVID-19 op te lopen vergroten doordat mensen hun gezicht meer aanraken. Uitgeademde lucht kan de ogen irriteren, waardoor je meer je ogen en gezicht aanraakt.
Dove mensen
Gezichtsmaskers zijn een uitdaging voor mensen met gehoorproblemen omdat het het vermogen om gemakkelijk te communiceren kan verminderen, omdat liplezen niet mogelijk is en het spraakniveau dat door de mond wordt overgedragen kan verminderen. Volgens de WHO zijn er wereldwijd 1,33 miljard mensen met gehoorverlies. Onderzoek heeft aangetoond dat het dragen van chirurgische maskers van transparant materiaal waardoor de mond kan worden gezien gunstige effecten heeft. Een gevolg kan zijn dat het dragen van een mondmasker kan leiden tot sociaal isolement waarvan we weten dat dit invloed heeft op het welzijn. Het coronavirus is vooral voor ouderen gevaarlijk. En veel ouderen leiden aan gehoorverlies. Door het verplichten van het dragen van een mondkapje worden zij nog meer buitengesloten en kwetsbaar. De communicatie wordt belemmerd, dit verhoogt angst, stress hormonen worden meer aangemaakt, immuunsysteem gaat op een laag pitje.
Medische verklaring
Wil je een medische verklaring. Met dit formulier vraag je kosteloos een medische verklaring aan voor het mondkap-vrij deelnemen aan de maatschappij suggereert Virus waarheid. Klik hier om je aan te melden. Tevens kun je hier de uitzondering mondkapjes downloaden, of hier.
Laatste onderzoeknieuws
Update december 2020
Asymptomatische verspreiding is geen bewijs van, onderzocht een covid-19 studie onder 10 miljoen mensen. Asymptomatisch betekent: geen symptomen. Er bestaat geen asymptomatische transmissie (Referentie).
De mondkapjesplicht is gepubliceerd in de Staatscourant op 30 november 2020. Ingangsdatum 1 december. Hier is gebruik gemaakt van de spoedwet (Referentie). De spoedwet is echter niet openbaar gemaakt. Reden niet bekend.
In de Staatscourant staat omschreven (paragraaf 2) 'mondkapjes de verspreiding van het virus tegengaan in situaties waarin voldoende afstand houden niet altijd lukt. Wij vinden de plicht tot het dragen noodzakelijk omdat de bijdrage van mondkapjes aan het tegengaan van verspreiding van het virus, van levensbelang is op het moment dat er sprake is van verregaande verspreiding van het virus'. Het helpt ons dus herinneren om 1:50 meter afstand te houden.
De mondkapjesplicht staat omschreven in een ministeriële regeling, het suggereert dat het dragen van mondkapjes bescherming biedt, maar het gaat alleen over het manipuleren van gedrag. Er is tot op heden geen wetenschappelijke onderbouwing dat mondkapjes werken.
De cijfers laten een dalende trend zien, maar dat wil het RIVM en de overheid liever niet horen.
In de ministeriële regeling staat: 'de noodzaak en evenredigheid voor de keuze van de mondkapjesplicht moet gemotiveerd worden en ze wijzen daarbij op art 58b lid twee van de Wet publieke gezondheid'.
Noodzaak:  Ik kan nergens onderbouwde noodzaak aantonen m.b.t. de mondkapjes, behalve dat het OMT aangeeft 'dat de mensen het graag zelf willen'. Dus wij burgers willen het graag.
Evenredigheid: Alhoewel dit containerbegrip moeilijk definieerbaar is, wordt er gekeken of een maatregel ook een evenredig resultaat oplevert. Echter tot nu toe blijkt het effect uitermate gering, zelfs verwaarloosbaar te zijn en kan het niet wetenschappelijk aangetoond worden.
Overig nieuws: Wetenschappelijk tijdschrift Nature heeft een onderzoek gepubliceerd waaruit blijkt dat asymptomatische (wel besmet, maar zonder ziekteverschijnselen) de mensen waarmee zij nauwe contacten onderhielden niet hebben besmet (Referentie)
Interview met immunoloog Dr. Ir. Carla Peeters. Ze werkte als immunoloog aan vaccins voor de preventie van infectieziekten en was 15 jaar change manager voor transformaties en transities naar veerkrachtige organisaties.
Update: November 2020
18 november 2020 publiceerde Deense wetenschappers een gerandomiseerde en gecontroleerde studie onder 6000 personen met medische mondmaskers. Overtuigend bewijs dat het virus niet of nauwelijks kon worden tegengehouden.  LET WEL, dit onderzoek ging over de medische mondmaskers dus niet de Niet-medische mondmaskers.  Gerandomiseerd gecontroleerd onderzoek uit Denemarken, (Deense studie) levert overtuigend bewijs dan mondkapjes niet werken. Helaas weigeren veel medische tijdschriften het onderzoek te publiceren omdat het een bedreiging van de huidige status quo kan betekenen. (Referentie)
Er is geen onderzoeken gedaan om aan te tonen dat een stoffen masker of het N95-masker enig effect heeft op de overdracht van COVID-19. Uit onderzoek dat op 1 april in de Annals of Internal Medicine werd gepubliceerd, bleek zelfs dat "zowel chirurgische als katoenen maskers niet effectief lijken te zijn in het voorkomen van de verspreiding van SARS-CoV-2 door de hoest van patiënten met COVID-19″ (Referentie)
In een meta-analyse van februari 2020 van zes gerandomiseerde gecontroleerde onderzoeken met 9.171 patiënten, waren er geen statistisch significante verschillen in het voorkomen van influenza- of virale infecties met N95-beademingsapparatuur en chirurgische maskers. (Referentie)
Uit een onderzoek uit mei 2020 onder 159 gezondheidswerkers in de leeftijd van 21 tot 35 jaar bleek dat 81% hoofdpijn kreeg door het dragen van een gezichtsmasker. (Referentie)
In een onderzoek uit 2008 van chirurgische maskers die door 53 chirurgen werden gedragen, ontdekten onderzoekers dat het masker het zuurstofgehalte in het bloed aanzienlijk verlaagde, waardoor een aandoening ontstond die bekend staat als 'hypoxie'. (Referentie)
Een onderzoek uit 2015 gaf aan dat hypoxie T-lymfocyten (de belangrijkste immuuncellen die worden gebruikt om virale infecties te bestrijden) remt door het niveau van een stof genaamd hypoxie-induceerbare factor-1 (HIF-1) te verhogen. (Referentie)  Met andere woorden, het dragen van een masker waarvan is aangetoond dat het hypoxie veroorzaakt, kan de weg vrijmaken voor het oplopen van COVID-19 en de gevolgen veel erger maken.
Hypoxie bevordert ontstekingen die de groei, invasie en verspreiding van kankers kunnen bevorderen. (Referentie) Hypoxie is ook een belangrijke factor bij atherosclerose, dus het verhoogt het risico op een beroerte en een hartaanval. (Referentie)
Degenen die maskers dragen, ademen de virussen voortdurend opnieuw in, waardoor de concentratie van het virus in de longen en de neusholtes toeneemt. Door een masker te dragen, zullen de uitgeademde virussen niet kunnen ontsnappen en zullen ze zich concentreren in de neusholtes, de reukzenuwen binnendringen en naar de hersenen reizen. (Referentie, referentie, referentie)
Anthony Fauci, hoofd van de directeur van het National Institute of Allergy and Infectious Diseases (NIAID), deed een interview op 60 Minutes waarin hij zei: "Mensen zouden niet rond moeten lopen met maskers op."
De Wereldgezondheidsorganisatie zegt dat het voor gezonde mensen niet nodig is om gezichtsmaskers te dragen. (Referentie) Ze raden aan dat gezonde mensen alleen maskers dragen als ze zorgen voor iemand die besmet is met COVID-19.
Chirurg-generaal Jerome Adams raadde het grote publiek af om gezichtsmaskers te dragen en zei dat ze "niet bewezen effectief waren" om te voorkomen dat mensen COVID-19 oplopen. (Referentie)
Hoewel de CDC het dragen van maskers aanbeveelt, gaven ze toe dat ze geen gegevens hebben om te bevestigen dat het dragen van een masker het risico op samentrekking of verspreiding van COVID-19 vermindert. (Referentie)
Dragers van chirurgische maskers hadden significant meer dyspneu na een wandeling van 6 minuten dan dragers van niet-maskers. (Referentie)
The Untold Truth Behind Face Masks and Covid-19
28:38
Face Masks - Helpful or Hoax?
25:21
Are you a Mask Moron
02:21
Kabinet negeert keihard bewijs dat mondkapjes zinloos zijn!
30:51
Bacteriën in mondkapjes - zet ondertiteling aan voor NEDERLANDSE VERTALING!
09:31
Hugo de Jonge: "mondmaskers voegen niets toe"
45